This Winterfest, the cold sweeps in
Heroes gather, there are fights to win.
Spread good cheer as the snow gets thick,
and escape the chains of Old Saint Rik!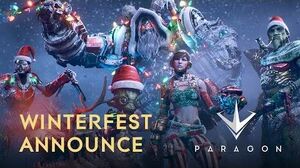 Winterfest is the 2016 Christmas event starting on November 29, 2016 until January 9, 2017. It introduced new unique skins (including a Tier 2 Old Saint Riktor skin).
Players could unlock limited time, Christmas themed skins by redeeming codes from watching or hosting streams on Twitch or in other places like YouTube for a chance for the Skin drops until December 13. After that date, all the droppable skins can be bought from the store.
Additions
New Skins and Twitch Drops
All of the five main Winterfest skins will be available for sale starting December 13, until January 9, with a discounted bundle including all of the skins.
Dynamic bundles will also be introduced with this sale, which let you keep the bundle's discount and only pay for the bundle content you don't already own. Example: You already won two skins from the Twitch drop. You can get a bundle for the remaining four skins at the discounted price, without paying extra for skins you already own.
Week 1 Drops (Nov. 29 - Dec. 5)
Week 1 Droppable Skins
Week 2 Drops (Dec. 6 - Dec. 12)
Week 2 Droppable Skins
Happy Winterfest!