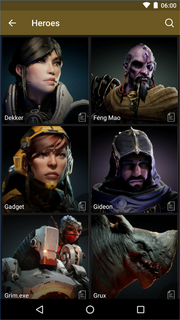 Hello all Paragonians!
We have some awesome news for the Paragon community. The Wikia Fan App for Paragon is now available on Google Play and  it's Apple equivalent will be available on the App Store very soon. Be sure download and install the version appropriate for your device so you always have a way to check up on the latest community activity and game information when you are not at home. Included in these apps and in the desktop version of the Paragon community is a new feature called Discussions . 
Discussions is a conversation feature that users can participate in and create new posts, reply to posts and even "upvote" them. To participate in Discussions, users will need to be logged into Wikia. Users will be able to upload an avatar and create a profile page for use with this feature.
Discussions can be filtered by either Latest or Trending using the filter option on the top menu bar. Sharing posts on social media is easy as well using the available sharing buttons. To access discussion from the desktop, use the link provided at the top of the page in the navigation bar. To access it in mobile, the link is also provided on the main page. 
The mobile app also gives users access to community information available at Paragon Wikia while on the go. This includes articles, images, and videos. For questions regarding the Paragon community at Wikia, be sure to leave a message on the Admin's talk wall. For questions specifically about the app or Discussions, use Special:Contact. Help us get Discussions rolling by adding your post today! Thanks!
Note: Discussions will be moderated by community staff but anyone can report inappropriate content via the 'Report' option in the Menu, so please be respectful and keep your posts related to Paragon and the Paragon Wikia community.