Jurassic World: Dominion Dominates Fandom Wikis - The Loop
Play Sound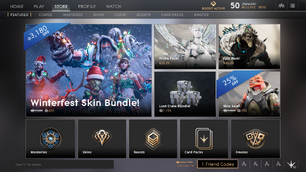 The Store is a marketplace in Paragon where you can buy Skins, Cards, Boosts, Master Challenges, Emotes, Loot Crates and Coins.
The store also has special packs, weekly deals on skins, and also has other special bundles that change occasionally.
Skins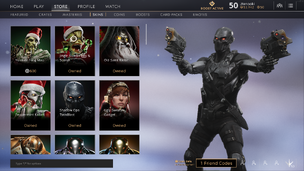 Skins is one of the sections in the store. You can browse for skins to buy with Coins. Skins are divided into tiers:
Tier I: 500 each.
Tier III: 1,500 each.
Tier IV: Price TBD
There are also weekly sales with a couple of Skins getting a 25% discount from their original price.
Emotes
Emotes are sold in the store. Emotes are available for different prices ranging from 200

to 600

You can see the list of the Emotes available on the main Emote page .
Loot Crates
You can purchase Loot Crates and Keys on the store. Loot Crates cost 299

while keys cost 199

, There are also some bundles which you can purchase:
You can read more about Loot Crates on their main page
Master Challenges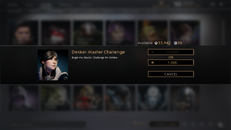 You can purchase Master Challenges with both Coins and Reputation.
Master Challenges cost 1,300

or 75,000

Boosts
You can purchase Reputation and Expierience Boosts with Coins. Boosts come in two variations each, time based boosts and win based boosts.
Boosts can be bought in 1, 3, 10 and 30 variations.
You can also obtain Boosts from Loot Crates.
Card Packs
You can purchase Card Packs with Reputation. There is a Weekly Pack that changes every week and usually includes a community picked card. There are a variety of Card Packs you can purchase:
To read more about the Card Packs section of the store you can check the Card Store page.