A Neutral Monster is a creature that does not attack unless it's provoked. They're usually found in the Jungle, and give varying amounts of amber and buffs, depending on how strong the creature is. Neutral Monsters are the primary source of income for a team's jungler, who relies on the camps and buffs that the jungle provides.
Camps
A camp is where a group of Neutral Monsters resides. A camp may have up to five Neutral Monsters at once.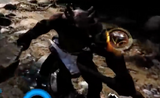 Buffs
Stronger Neutral Monsters drop a buff when they're slain. These buffs are awarded to the last-hitter, and last for a short period of time. When you die, you lose any buffs you may possess.
List of Neutral Monsters
Community content is available under
CC-BY-SA
unless otherwise noted.