Jurassic World: Dominion Dominates Fandom Wikis - The Loop
Play Sound
Harvester Keys were cards that sped up the building of Harvesters. Without keys, Harvesters took a long time to build up. They were removed with the Monolith update, and all Harvester Keys (with the exception of the Harvester's Key, which has been removed from the game) have been replaced with Siphons and Scythes.
Harvester's Key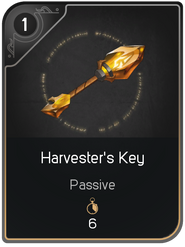 The Harvester's Key card is a 1 point, Passive card. It has one use and has to be recharged at the base to be reused.
If a player has a Harvester's Key in their inventory and it still has its one use, the next Harvester built by that player will construct in 6 seconds.
Advanced Keys
There are several other keys with different stat bonuses and effects. These more advanced cards cost 2 or 3 CP and the variety in them allows them to be used efficiently in most deck compositions. There are several advanced key cards available to purchase in the Card Shop, each suited for a different hero or playstyle.
| Card Name | Affinity | Cost | Placement Time | Bonus 1 | Bonus 2 | Bonus 3 |
| --- | --- | --- | --- | --- | --- | --- |
| Beastmaster's Key | Universal | 3 | 3s | 60 Health | 50% Damage Bonus against jungle minions. | |
| Brawler's Key | Universal | 3 | 3s | 6.5 Physical Damage | 30 Mana | |
| Executioner's Key | Corruption | 2 | 3s | 6.5 Physical Damage | 4% Crit Chance | |
| Guardian's Key | Universal | 3 | 3s | 6.5 Physical Damage | 60 Health | |
| Lord's Key | Universal | 3 | 3s | 60 Health | 30 Mana | 2.5% Cooldown Reduction |
| Magus' Key | Universal | 3 | 3s | 6.5 Energy Damage | 30 Mana | |
| Lazarus Key | Universal | 4 | 3s | 60 Max Health | While on a Harvester, gain 8.4 Health Regen and +80 Move Speed. Move Speed last 5 seconds, and stacks every second up to 240. | |
| Oasis Key | Growth | 3 | 3s | 1.4 Health Regen | 2.5% Lifesteal | While near a Well, gain 0.9 Mana Regen and 60 Health |
| Reaper's Key | Corruption | 2 | 3s | 6.5 Energy Damage | 4% Crit Chance | |
| Sage's Key | Universal | 3 | 3s | 6.5 Energy Damage | 60 Health | |
| Stalker's Key | Corruption | 3 | 3s | 2.5% Lifesteal | 50% Damage Bonus against jungle minions. | |